pastelrabbitsheet
sent:
Whats your brush settings and stuff? Your color looks so pretty.
Ahh thank you! I can give you what I use, but I don't use SAI or PS to colour so I'm not sure how helpful they'll be if you use those programs!
These are the 3 brushes I use- the "Basic" being roughly the same as the default pen tool in sai   the "Lineart"  being quite similar but there's less variation in the brush,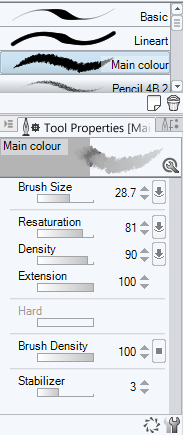 and then "Main colour" for pretty much all of my colouring ;x;/ it's a brush I've tweaked that originally was found off of clip's online materials library, I'm afraid I've forgotten the original maker but I'm sure it's still on there.
I also made a tutorial explaining most of the techniques I use to get my art to look the way it does here!